About
In 1973, Franklin Country Day Camp (FCDC) was opened by Gail and Atty. Edward Lembo enabling children to spend their summer school vacation actively entertained in a fun and learning environment. FCDC offers 250 acres of trailed forest, a vast green meadow, pond and a natural stream, Mine Brook. Our rustic barn inspired arts and crafts and connects to our woodworking shop. The "Stables", we converted to a large recreational building. We also have two inground swimming pools for our Red Cross swim program. And, of course, our "magical music tent" where the entire camp meets each day for our "sing" which is magical! All of our buildings provide ample space for rainy day activities, if needed.
At FCDC we aim to provide a positive setting and environment for children to grow and flourish every day during their camp stay with us. Our campers make friends and memories that stay with them for a lifetime. We offer adventure, archery, arts & crafts, boating, ceramics, creative music, pioneering, sports, swimming, theater arts, video, woodlore, and woodworking.
Our ultimate aim is to help children develop into happy, healthy and confident members of society. To achieve this goal, we must have a superior staff. Our head counselors are predominantly school teachers and at one time some were even FCDC campers. We also place our campers in small groups according to their grade in school, with a 5:1 ratio. The campers are guided by our dedicated and capable staff to a deeper appreciation of themselves and others. Our program is carefully planned, so campers can fully participate in all of our camp activities and make wonderful memories that will last a lifetime.
Daily hours are from 9:00 am to 4:00 pm, Monday through Friday
Children bring their own lunch. All lunches are collected in the morning and refrigerated
We comply with the regulations of the Massachusetts Department of Public Health and are licensed by the local board of health
Full-time Camp Nurse (R.N.) on duty each day
Campers are divided into groups by grade
Tuition due for all sessions by June 1
Immunization record and FCDC Health Form MUST accompany camper application
2023 Camp Sessions
(Camp runs for 3 two-week sessions.)
First session: July 10 - July 21
Second session: July 24 - August 4
Third session: August 7 - August 18
| Camp | Ages | Description |
| --- | --- | --- |
| Jr. Camp I | 4-5 | Entering Kindergarten in Fall current year |
| Jr. Camp II | 5-6 | Completed Kindergarten current year |
| Regular Camp | 6-12 | 1st grade through 6th grades |
|   |   |   |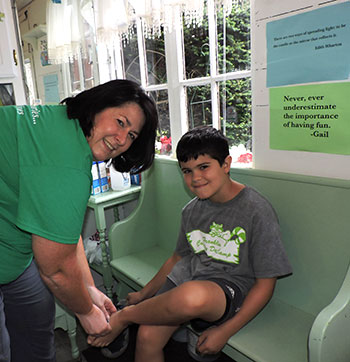 Full-time camp Nurse (R.N.) on duty each day
Our camp must comply with all regulations of the Massachusetts Department of Health and be licensed by the Franklin Board of Health each year.